Study design
DREAMM-2 investigated BLENREP as a single agent in patients with RRMM whose prior therapy included an anti-CD38 monoclonal antibody, a proteasome inhibitor, and an immunomodulatory agent1,a
The primary endpoint was overall response rateb | Select secondary endpoints were duration of response and time to first response.1,2
Patient
Populationc
DREAMM-2 was an open-label, randomized study designed with 2 parallel dosing cohorts that included patients with RRMM who had undergone autologous stem cell transplant or were considered transplant ineligible (n = 221).
Prior
Treatments
Patients previously received 3 or more anti-myeloma treatment regimens and were refractory to an anti-CD38 monoclonal antibody, an immunomodulatory agent, and a proteasome inhibitor.
Dosing
Regimen
Patients received either BLENREP 2.5 mg/kg or 3.4 mg/kg by intravenous infusion over approximately 30 minutes every 3 weeks. Dose was modified in some cases due to adverse reactions.
Treatment
Continuation
Treatment continued until disease progression or unacceptable toxicity. Efficacy analysis was based upon results in patients who received the recommended dosage of 2.5 mg/kg (N = 97).
Efficacy
Nearly a third of patients with RRMM had a clinically meaningful response with BLENREP1
At 6 months, BLENREP demonstrated a 31% ORR with durable responses1,2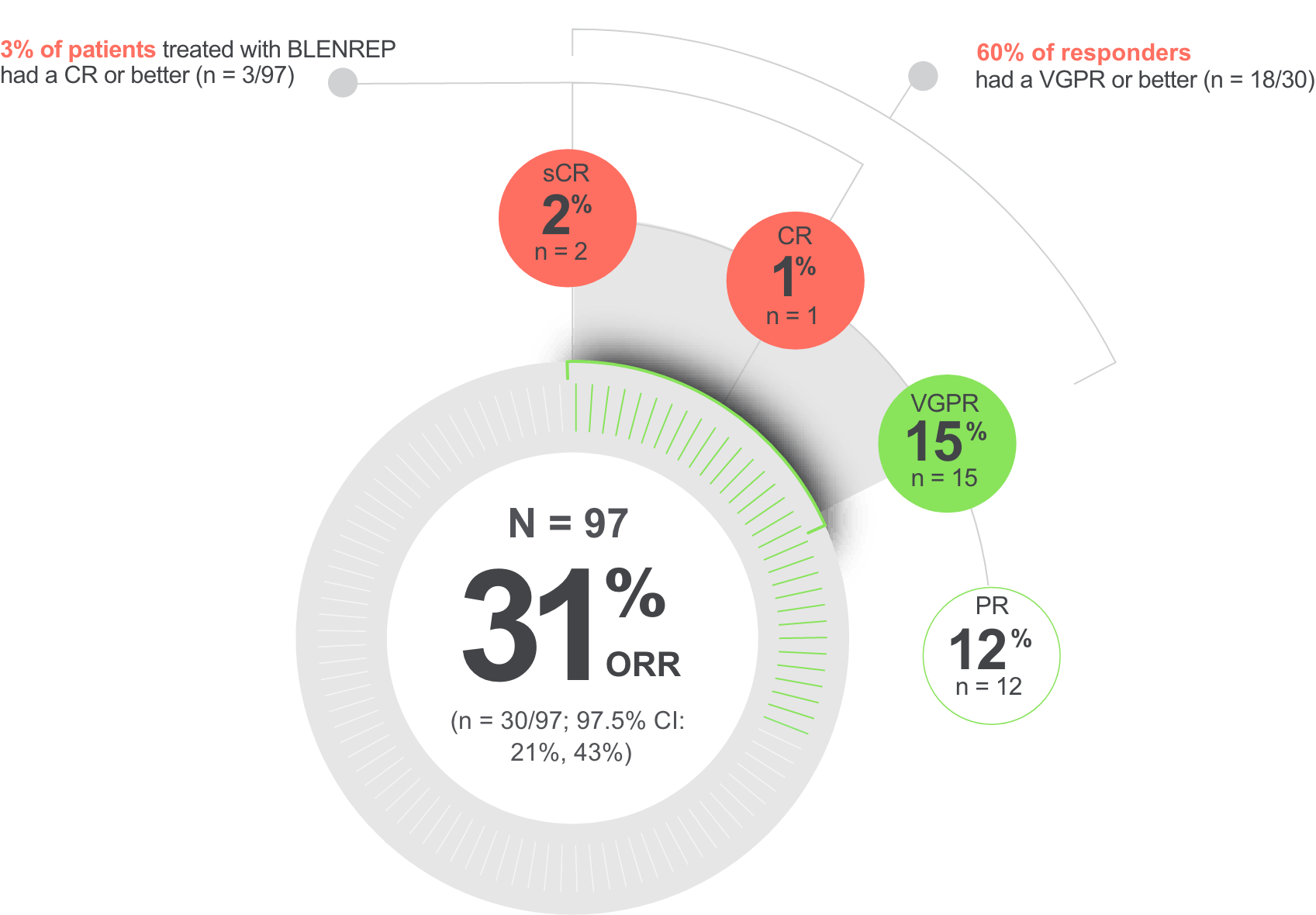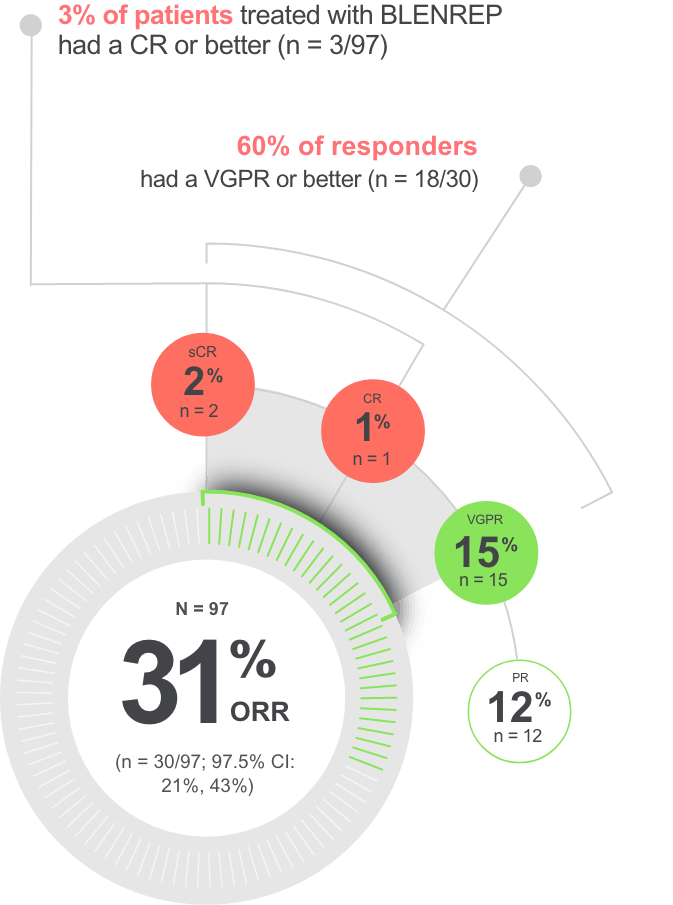 Median DoR NOT REACHED at 6 months of follow-up
Overall response rate: 31% (n = 30/97; 97.5% CI: 21%, 43%).1

Median time to first response: 1.4 months (95% CI: 1.0, 1.6).1

Depth of response: The majority of responders, 60% (18/30), achieved very good partial response or better.1

Duration of response: 73% of responders had a DoR ≥6 months at the time of data cutoff.1
At the 13-month follow-up, BLENREP demonstrated a 32% ORR and an estimated median DoR of 11 months3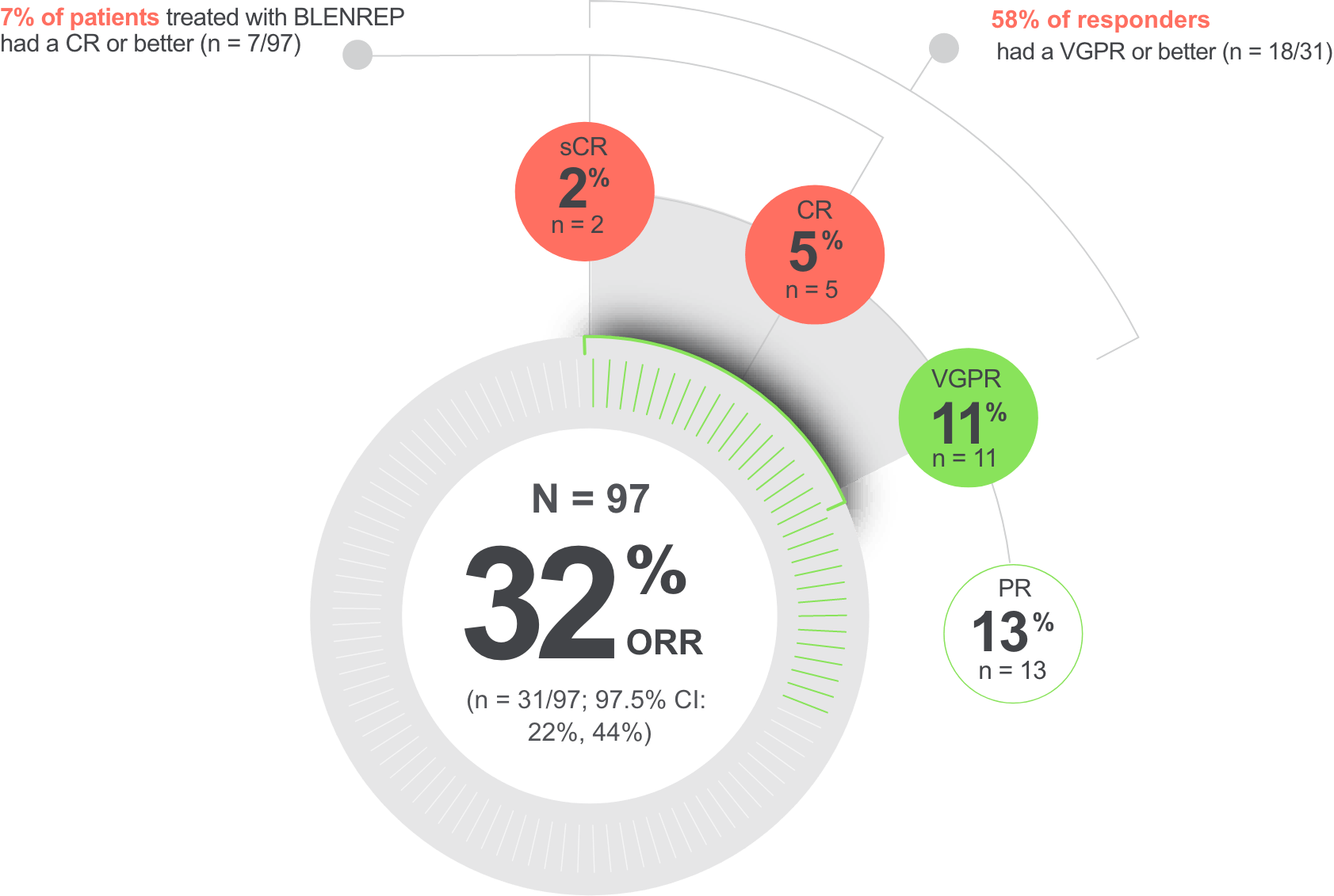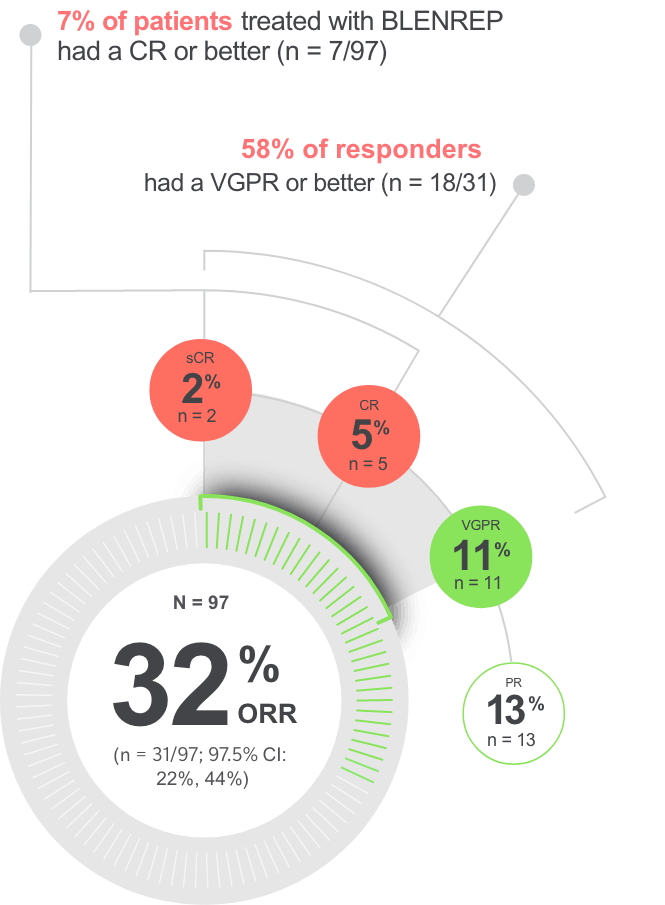 Median DoR estimate was 11 MONTHS (95% CI: 4.2, NR)
Overall response rate: 32% (n = 31/97; 97.5% CI: 22%, 44%).3

Depth of response: 58% of responders (18/31) had a very good partial response or better; 7% (7/97) of patients treated with BLENREP had a complete response or better.3

Duration of response: Estimated median DoR of 11 months (95% CI: 4.2, NR).3
The DREAMM-2 clinical trial included patients with high-risk cytogenetics2
42% of patients in the DREAMM-2 study had high-risk cytogenetics2*
In a post hoc analysis of 41 patients with high-risk cytogenetics2,3
At 6 months and at 13-month follow-up: an overall response rate of 29%
was observed (12/41; 95% CI: 16.1, 45.5)2,3
These were exploratory analyses not adjusted for multiplicity and not controlled for Type 1 error. No efficacy conclusions can be drawn from these data.2,3
Patients included those with translocations 4;14 and 14;16, 17p13 deletions, and chromosome 1q21 amplification. The two most common cytogenetic risk factors in patients were 1q21 amplification and 17p13 deletions.2
1q21+: 61% (25/41)

17p13del: 39% (16/41)

t(4;14): 26% (11/41)

t(14;16): 17% (7/41)
DREAMM-2 evaluated heavily pretreated RRMM patients, including those with mild and moderate renal impairment2
74% of patients in the DREAMM-2 study had mild or moderate renal impairment2
In a post hoc analysis at 13 months:
Overall response rate for BLENREP 2.5 mg/kg by renal function3
Normal renal function
(>90 mL/min/1.73 m2)
37%
(n=7/19; 95% Cl: 16.3, 61.6)
Mild renal impairment
(≥60–<90 mL/min/1.73 m2)
33%
(n=16/48; 95% Cl: 20.4, 48.4)
Moderate renal impairment
(≥30–<60 mL/min/1.73 m2)
33%
(n=8/24; 95% Cl: 15.6, 55.3)